Meet the experts guiding the CHS Verification Scheme
26 April 2021
114 organisations are now verified against the CHS. This shows the incredible commitment made by many organisations to be more accountable to people affected by crisis. Their efforts are guided by the CHS Alliance Verification Scheme, which offers different approaches to verification enabling all types of organisations working in humanitarian and development aid to measure how well they are meeting the Standard.
The CHS was designed so that its application can be measured. Organisations can measure their performance through the CHS verification to help them learn the extent to which accountability standards have been incorporated into their work and highlights which areas to improve.
The CHS Alliance Verification Scheme offers different approaches to verification, recognising the many types of organisations working in humanitarian and development aid. The Scheme aims to ensure CHS verification is relevant, feasible and fair for all who participate. Verification is a structured, systematic process to assess the degree to which an organisation is working to achieve the CHS.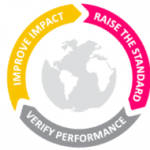 As the owner of the Scheme, CHS Alliance is committed to ensuring it is kept relevant and fit for purpose to enable aid organisations to apply, measure and improve the CHS. To achieve this aim we have invited a panel of external specialists, the CHS Verification Advisory Panel (VAP), to provide oversight, technical advice and quality control on the application of the Verification Scheme on behalf of the CHS Alliance Governing Board.
Members of the Verification Advisory Panel are:
Tim Boyes-Watson (Chair), Global Director, Alliances & Advocacy, Humentum
Amina Deji-logunleko, SA 8000 Auditor, Independent Consultant, HAP (USA Massachusetts)
Elissa Goucem, Head of Quality Assurance, Humanitarian Quality Assurance Initiative
Claire Goudsmit, Independent Consultant
Thomas Lewinsky, Independent Consultant
Merete Skjelsbæk, Senior Manager, Advisory, Risk Consulting GRC – Governance, Risk & Compliance, KPMG Norway
Coleen Hemskerk, CHS Alliance Board Member & Church of Sweden
Allan Calma, CHS Alliance Board Member & Lutheran World Federation
To get to know the experts better, two members of the panel share how the panel can help organisations undergo – and make the most of – a CHS verification option:
Why is CHS verification important to the humanitarian and development sector at this time?
Tim Boyes-Watson (Chair): Ensuring the active participation of communities in the design and delivery of humanitarian and development interventions is vital not only to improving quality in the sector, but in addressing justified criticism that the philosophy of aid is structurally racist. The CHS exists to enable organisations to demonstrate that they are really listening to communities and responding when there are complaints. CHS verification gives communities and donors the confidence they need that organisations are operating to these standards.
Elissa Goucem: Independently measuring how an organisation is performing is one of the most efficient means of improving how it works for those affected by crisis. CHS verification is a reality check that supports the organisation to focus their resources where they are most needed. Independent verification options can also contribute to rebuilding trust in the aid sector, at a time when it has been hit by repeated scandals of unchecked abuse.
The recent acceptance by European Civil Protection and Humanitarian Aid Operations (ECHO) of an Humanitarian Quality Assurance Initiative audit demonstrates that independent verification against the CHS has the potential to reduce the duplication of audits. This is a great example of harmonisation in practice and can decrease the  burden of compliance we know so many organisations face.
CHS verification can also potentially increase local and national organisations' access to funding from institutional donors, with strongly supporting progress on the localisation agenda.
What value do you think the VAP will add to the CHS Verification Scheme?
Elissa: The panel will offer a unique platform to discuss interpretation issues that occur during the CHS verifications. Experience has shown that, at times, even the expertise of auditors from the field of humanitarian standards alone is not enough to solve all potential interpretation issues. The VAP, with its diverse expertise, will be able to take account of, and in a way reconcile, the reality on the ground with the theory behind the CHS Verification Scheme framework. 
Through ongoing interpretation of the CHS, the panel can contribute to developing a common understanding of the Standard's content and how it can be applied universally.
Tim: The VAP includes independent experts on quality assurance and audits, who are also committed to making CHS verification as accessible as possible. We hope that our advice will increase the use of verification, for example thorough self-assessment, and demystify how verification is applied.
How can CHS Alliance members and users of the CHS Verification Scheme make the most of the expertise of the VAP?
Tim: The VAP would love to hear more about how the Verification Scheme is being applied in practice, especially as part of self-assessment or organisational assessments. The VAP's advice will be much more useful to CHS Alliance members and scheme users if we hear what is working well and are asked to advise on how to overcome the most common problems and challenges.
Elissa: Ask questions! Bring us the issues you face that may need more interpretation and further explanation.
This panel is to help those of you who are verifying, or considering CHS verification. Please do ask them any questions you have or share your suggestions by getting in touch with Adrien Murat, Verification Manager.