The Core Humanitarian Standard on Quality and Accountability (CHS) was designed so that its application can be measured. Measuring your performance through the CHS verification scheme helps you learn the extent to which accountability standards have been incorporated into your work and highlights which areas you might consider improving.
The CHS Alliance Verification Scheme offers different approaches to verification, because we recognise there are many types of aid organisations at different stages of their journey to meet the CHS Nine Commitments.
All verification approaches allow organisations to capture useful data and identify areas of strength and weakness using the 62 indicators outlined in the CHS Verification Framework.
An organisation completing a verification will automatically assess their performance on key cross-cutting issues mainstreamed across the CHS. CHS Alliance uses indicators from the Nine CHS Commitments to develop indexes that reflect how well the organisation performs across three areas:
---
Self-Assessment
Self-assessment is a learning exercise. It helps organisations understand their capacity and performance against the CHS, and builds an improvement plan to make the services they deliver work better for the people affected by crisis.
Using a guidance document and online survey tools provided by the CHS Alliance, self-assessment allows organisations to collect information, document evidence and present results.
While the results of the Self-Assessments belong entirely to the organisations, CHS Alliance secretariat validates, only for the members, the fact that they completed the process. They are issued with a letter and a stamp they can use to demonstrate their commitment to the standard.
Find out more about self-assessment
---
Start my Self-Assessment journey

If you are not a member of the CHS Alliance and haven't done a CHS Self-Assessment before, please visit the CHS Commitment Tracker for further information. Alternatively, you can directly start your Self-Assessment by filling out the preliminary survey.
Start your self-assessment journey
If you are a member of the CHS Alliance or you have previously done a CHS Self-Assessment, please log into your CHS Commitment Tracker account or get in touch with ua at verification@chsalliance.org.
---
Independent Verification & Certification
Independent verification and certification against the CHS are conducted by an accredited, third-party auditor – currently this service is offered by Humanitarian Quality Assurance Initiative (HQAI).
These options provide a detailed picture of the degree to which organisations have successfully implemented the CHS, as well as providing a road map for making improvements.
Find out more about certification
---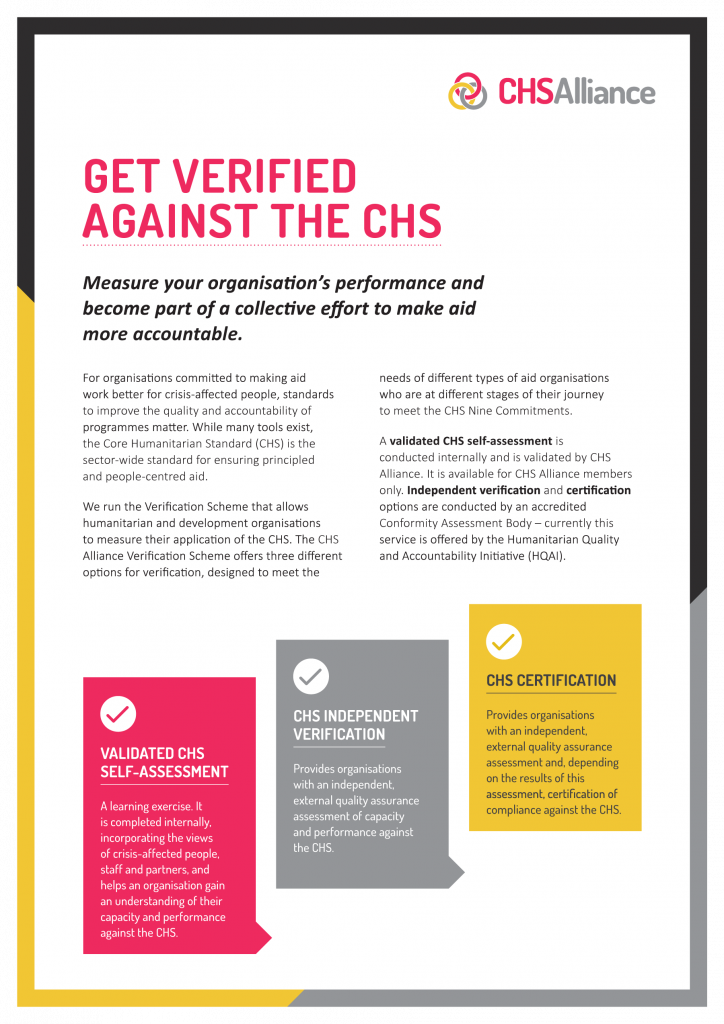 ---
The Verification Advisory Panel (VAP) ensures that the scheme remains fit-for-purpose.
Further questions are answered in our CHS verification Frequently Asked Questions.
We encourage organisations to choose the verification option that best suits their needs.
Contact our Verification Lead, Adrien Muratet, to start your verification journey.
"I worked in the field. Because of what I saw there, I believe verification is essential and can help organisations improve. The CHS Alliance offers different options to adapt to the needs of diverse organisations. We are here to help."