Christian Aid's Naosheen Afroz: "Community participation takes place at every level"
25 April 2018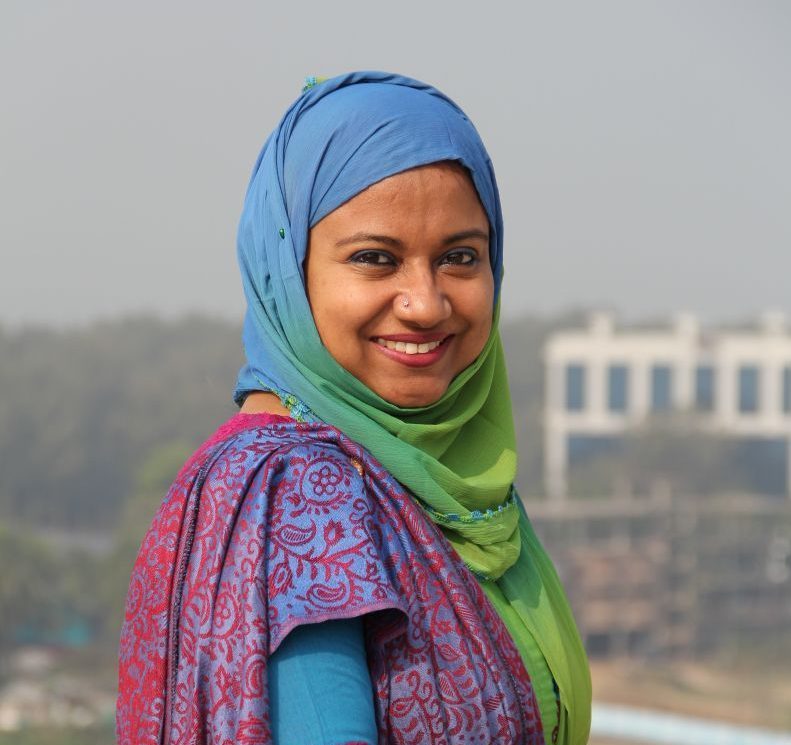 Naosheen Roo Afroz works with Christian Aid's integrated emergency humanitarian response team in Cox Bazar. She is also the accountability coordinator. We had a chat with her against the background of the recent publication of Christian Aid's Accountability Assessment of the Rohingya Response in Bangladesh.
Naosheen, could you tell us what type of aid you deliver within the context of the Rohingya crisis in Bangladesh?
Christian Aid and our implementing partners are supporting affected people and communities through various relief activities, namely:
Shelter and distribution of essential material including solar lamps;
Water and sanitation through the installation of latrines and the construction of showers; waste management; promotion of hygiene;
Protection: friendly spaces have been created in order to respond to the psychological needs of women, adolescent girls and children and bring a sense of normality back into their day-to-day lives; community kitchens have been created to support families;
Health:  we are operating a mobile medical service, providing basic health care; we have distributed basic medication; we have carried out door-to-door house visits and community sessions on maternal care and reproductive health and have made a referral service available;
Site management: day-to-day management of 15 camp sites in collaboration with the Camp In-Charge (CIC); creation of Block Development Committees, which are the main points of contact to engage the Rohingya community in decision-making.
Community participation takes place at every level.
How does your team cooperate with partner organisations to deliver aid jointly?  
Christian Aid's country team and our partner organisations have worked closely together since the very first day, conducting needs assessments and distributing relief supplies, including hygiene kits, latrine kits, menstrual hygiene kits and shelter materials.
Thanks to our implementing partners, we have been able to consult communities and vice versa from the earliest stages of programme planning.  Ahead of distribution activities, for example, we jointly consult communities in order to identify their needs.  Another example is that we have agreements with our partners, mainly within the framework of consortium projects, that a joint procurement committee will be established in order to ensure that the products we deliver respond to certain quality standards.
We inform communities about the distribution of supplies in their language. We inform them about the locations at which our distributions activities will take place and which items will be distributed, resorting drawings and identification numbers. We do the same to inform communities about available services and referral mechanisms.
Today, over 172 frontline staff from Christian Aid and partner organisations have received training on the importance of accountability and the basic norms of community interaction, so that they align with the Nine Commitments of the Core Humanitarian Standard on Quality and Accountability (CHS), the Code of Conduct of the International Red Cross, as well as the Code of Conduct for the Protection from Sexual Exploitation and Abuse (PSEA).
What type of feedback mechanisms have you put in place in Cox Bazar?
In order to establish feedback mechanisms, we consulted 373 people – 194 women and 179 men – in the camps to find out about their preferred mechanisms. Simultaneously we ran a pilot project to see whether voice recorders placed in women- and child-friendly  spaces would be used by women to share their feedback or complaints. These processes revealed that there were major gender-related differences in attitudes towards accountability. Women seem to have a much stronger desire to give feedback and were more concerned with confidentiality than men. However, everyone expressed a strong preference to share feedback verbally and said that they had neither the literacy or language skills, or the necessary awareness, to access many of the traditional accountability mechanisms, such as complaints boxes or hotlines. In fact, complaints boxes and hotlines were their least preferred mechanisms. Face-to-face, verbal mechanisms were clearly preferred. This meant that we had to think about what mechanisms we could use to gather people's feedback.
What feedback mechanisms did you establish as a result of this consultation process?
We have made a wide array of feedback mechanisms available in order to cater to people's diverse preferences. Voice recorders are available at women- and child-friendly spaces, but also at communal cooking areas. The Block Development Committees also collect complaints and feedback and record them in their logbook. Our volunteers have a feedback form to record what they hear when they interact with communities. We also have an info hub at our site management office and finally, we have a complaints box which we kept for visibility purposes.
We collect feedback, transcribe and analyse the voice-recorder messages on a weekly basis.  Site management personnel identify and monitor those cases where follow-up is needed. These are presented at coordination meetings or individually, with the relevant stakeholder. We still have work to do in order to aggregate and analyse the feedback we collect through multiple mechanisms, but we are getting there!
How has the feedback improved Christian Aid's response so far?
The Rohingya response is one of the largest refugee responses in terms of numbers of people affected and the complexity of the situation. The feedback we receive from refugees helps us and our partners to learn on a daily basis.  For feedback that relates to Christian Aid we discuss it within our project team, at our weekly meetings, and make a response and follow-up plan. If the feedback doesn't relate to Christian Aid or partner activities, we refer it at sector coordination meetings, such as those relating to site management or food security. We also share feedback with our head office, which uses it to inform their decision-making.
How has this mproved the lives of refugees in Cox Bazaar?
When I started in January, I found that people in the camps were very shy when asked to share their opinion. Sometimes they would only talk about their very basic needs – mostly related with food. Every day, we would come in and encourage people to speak up, and today the community trusts us, they raise their voice, they make demands and even draw our attention when we don't give them a timely response. These are all very positive signs.
Have you done anything different in relation to CHS?
When conducting research for our Accountability Assessment Report, we seized the opportunity to verify whether Rohingya refugees thought we had successfully implemented the Nine Commitments of the CHS. We had never asked people these questions at such an early stage of a response. The results were really interesting and revealed that women were less inclined than men to feel that the humanitarian response is appropriate, while neither men or women thought it was provided in a timely fashion. However, women felt that they could influence projects, which surprised us. We acknowledge that this response may be due to the fact that there has been more space for women to share their opinion. We were really pleased to know however that Rohingya refugee consider that they are treated well by humanitarian aid workers. These findings were really helpful for us to understand what people thought of the assistance we provide. We used them in order adapt our programme and ensure the equal representation of women and men in Block Development Committees.