Care and compassion: be well to serve well
9 December 2019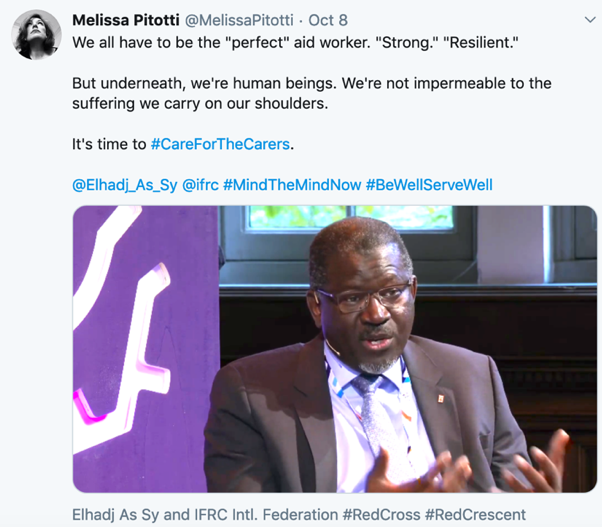 We care…
The CHS Alliance has long been concerned about aid worker wellbeing. Why? Because the actions of staff and volunteers underpin each of the Nine Commitments of the Core Humanitarian Standard (CHS). Staff and volunteers are crucial to the delivery of meaningful, high quality aid. To fulfil the CHS, organisations must support staff and volunteers to do their job effectively and treat them fairly and equitably. The Quality Criterion for Commitment Eight states that "staff are supported to do their job effectively and are treated fairly and equitably." Ultimately, if people are not treated well – if they are not well – then they cannot serve well.
But perhaps there could be another motivation. Humanitarians are supposed to be attuned to human suffering. We care about it and we want to relieve it. This is the textbook definition of "compassion." When we realise our colleagues are suffering in the service of people affected by war and disaster, we feel empathy and we want to do something to improve the situation.
And yet…
Aid workers continue to suffer. In the mental health and wellbeing survey of the Global Development Professional Network, 79% had experienced mental health issues and 93% believed these were related to their work in the aid industry.
The Antares Foundation's guidelines for good practice, "Managing stress in humanitarian workers," notes findings from an Antares Foundation joint research project with the Center for Disease Control. Among national staff surveyed in Jordan, Uganda and Sri Lanka, between half and two thirds showed clinically significant levels of depression; about one out of two people showed signs of anxiety; and more than one out of five people showed prominent signs of post-traumatic stress disorder (PTSD). Among international staff of five humanitarian aid and development agencies: approximately 30% reported significant symptoms of PTSD and more than 15% reported drinking alcohol at a dangerous level.
A 2018 research project by Liza Jachens and others on "effort reward imbalance and burnout among humanitarian aid workers" found 32% were at risk for emotional exhaustion (emotionally drained and unable to unwind/ recover); 10% were at risk for depersonalization (excessively distant, cynical attitudes towards affected populations); and 43% were at risk for low personal achievement (ineffectiveness, inefficacy, and incompetence).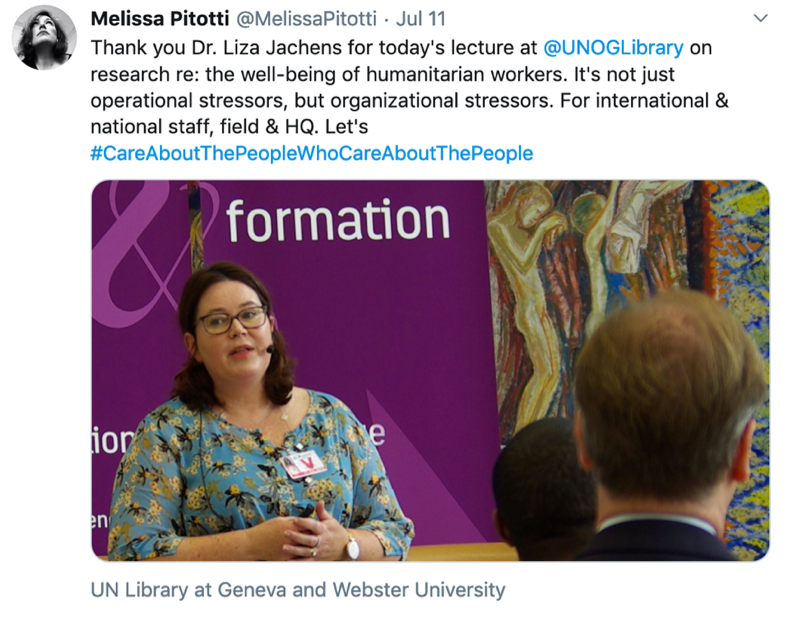 We've tried…
The ground-breaking 1995 report by Rebecca Macnair, "Room for Improvement: The Management and Support of Relief Workers," catalysed a conversation about how getting staff care wrong leads to poor performance and diminished programme quality. That report also paved the way for the creation of People in Aid and the "Code of Good Practice in the Management and Support of Aid Personnel (first published in 1997 and revised in 2003)." Many excellent initiatives followed, even after the merger of People in Aid and the Humanitarian Accountability Partnership International created the CHS Alliance. The CHS Guidance Notes and Indicators, for example, describe agency, managerial and individual responsibilities:
Staff often work long hours in risky and stressful conditions.
An agency's duty of care to its workers includes actions to promote well-being and avoid long-term exhaustion, burnout, injury or illness.
Managers must make aid workers aware of the risks and protect them from exposure to unnecessary threats to their physical and emotional health. Managers can promote a duty of care through modelling good practice and personally complying with policy.
Aid workers also need to take personal responsibility for managing their well-being.
CHS Guidance Notes and Indicators, 2015
Twenty years after Room for Improvement, the CHS Alliance commissioned a paper by Hitendra Solanki: "Mindfulness and Wellbeing – Mental Health and Humanitarian Aid Workers: A Shift of Emphasis from Treatment to Prevention." He observed that our sector's efforts to respond to the demands of a rapidly changing world by "creating further portfolios of competencies and expectations seemed blind in proactively factoring in the need to ensure wellbeing as the key prerequisite towards achieving them."
"As organisations, are we able to genuinely say we are preparing our staff and ourselves for the realities of the humanitarian sector? Are we doing enough to prevent and reduce the levels of anxiety, depression and burnout experienced by so many of us?" Hitendra Solanki, Mindfulness and Wellbeing, 2015
In the run-up to the 2016 World Humanitarian Summit, more than one thousand people signed a petition to "include staff welfare as a key issue". The petition spelled out various requests, including: to systematically invest in caring for the physical, mental and psychological welfare of staff; to establish a mechanism to ensure all aid workers have access to adequate support, particularly national aid workers; and to support the Core Humanitarian Standard, particularly Commitment Eight. Amy Brathwaite released a 10-minute film, "Kick at the Darkness: an exploration of the psycho-social impact of humanitarian work." Brendan McDonald published a business case for investing in aid worker wellbeing.  Nevertheless, staff welfare did not make it onto the Summit's agenda.
And now?
Despite recent conversations about safeguarding, diversity and toxic cultures within organisations, it is clear that we in the aid sector have yet to instigate widespread changes in our practice when it comes to: 1) how organisations treat their staff, and 2) how we care for ourselves and one another. A July 2019 series of CHS Alliance focus group discussions found a strong appetite to do something about it. The CHS Alliance decided to incubate an initiative to "Cultivate Caring, Compassionate Aid Organisations." This would put a fine point on the intersection between mental health, people management and organisational culture (including organisational approaches to diversity, inclusion, and equity). It would use the lens of care and compassion, our original motivation for participating in this line of work in the first place.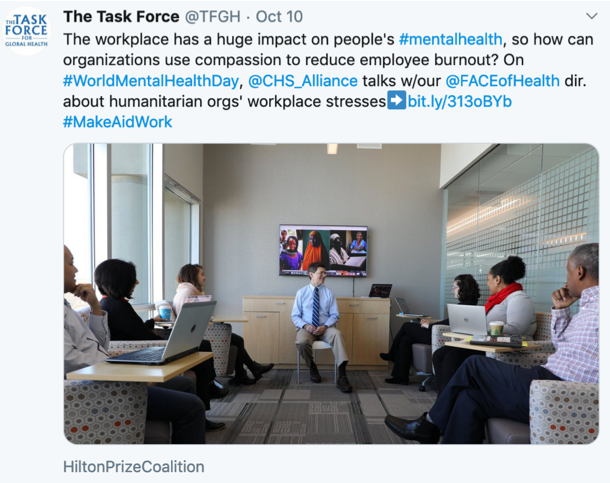 Mature compassion arises from a sense of shared humanity and solidarity. Among health care workers, this kind of compassion actually protects against burnout. It enhances a sense of well-being, purpose, and connection with patients. Yet, compassionate care cannot be sustained by individuals alone – it must be valued and lived on a daily basis by entire organisations." CHS Alliance Interview with David Addiss
Since September, the Initiative's project design team, Mary Ann Clements and Melissa Pitotti, have held conversations with more than a 100 people on six continents. They have mapped existing experts, resources, projects and events, producing a wealth of information to be shared in 2020. They engaged participants in the October 2019 Humanitarian Human Resource Conference in Antwerp, held by the CHS Alliance in partnership with Humentum and Cigna, reviewing examples of good practices for the security and the wellbeing of staff, sharing resources that could help participants start conversations in their organisations about care and compassion and a calendar of events and opportunities, and collecting participants' key takeaways. Mary Ann Clements led a sharing session at the 13 November BOND seminar "How to embed wellbeing in your organisation," an event also held in partnership with Cigna.
Based on this outreach, we have developed a potential plan looking forward to develop an inclusive process to shift the way aid organisations prioritise staff wellbeing. We will explore further the barriers to achieving Organisational Responsibility 8.9 (mentioned above) and proposed solutions. From this, we plan to produce a facilitators' guide and a resource repository, designed to support local facilitators around the world and ensure diverse perspectives are sought and heard. The ideas generated in these spaces would be captured and shared, including through a newsletter, podcast, and blogs. They would also inform planning for a large, in-person gathering to be held at the end of the year to foster collaboration, connection, learning and action going forward. The ultimate vision is to cultivate organisational cultures of care and compassion where people thrive and work more effectively.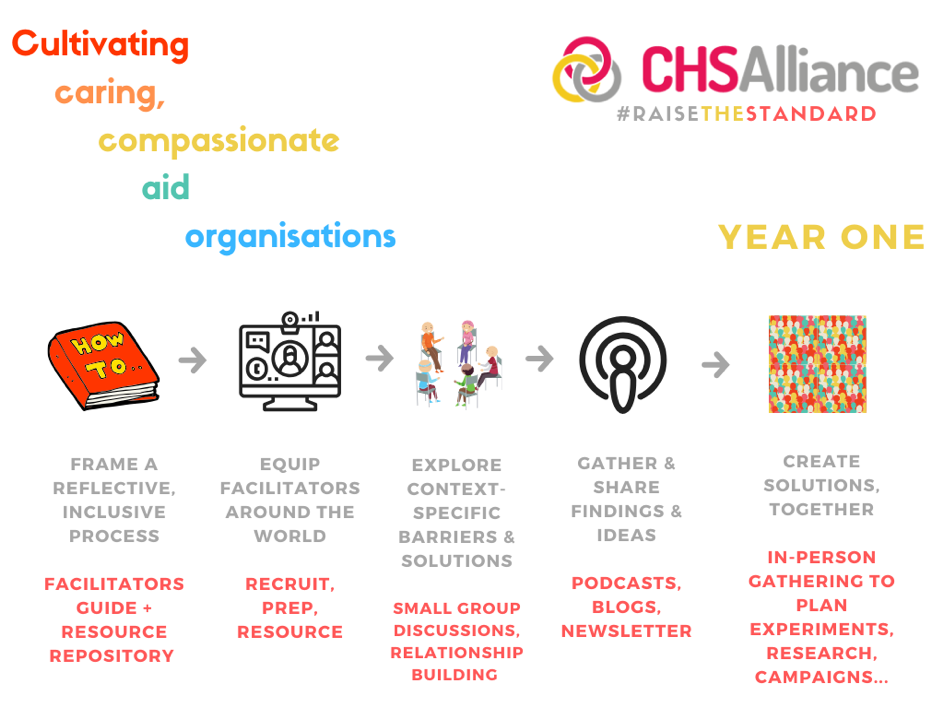 We'll be inviting CHS Alliance members to join us for a discussion on the Initiative – its findings, potential future and ways to get involved –in early 2020. In the meantime, we invite you to listen to the new podcast, "Embodying Change," a guest series hosted on Change Making Women.  Thus far, the series includes perspectives on staff wellbeing from civil society in India, Mexico and Uganda. You can also watch a recorded online conversation about care and compassion in our work between Mary Ann Clements, Melissa Pitotti, Nurhaida Rahim, and, the CHS Alliance People Management Adviser, Gozel Baltaeva. It was part of the 25-29 November online conference Healing Solidarity Embodying Change, A Second Online Conference About Re-Imagining International Development. Contributors can access recordings online.
If you're a CHS Alliance member who wants to get involved, please contact Gozel Baltaeva, CHS Alliance People Management Adviser.