"This is necessary to ensure moral stability within my household"
27 August 2018
Halimata is married, with five children – two girls and three boys. Following the insecurity in her region, her husband went to work outside town, and she stayed behind with her children, without support and without any source of income. She used to live in the commune of Douentza Circle. In September 2014 she and her children were internally displaced.​ She shares her experience with IRW's Food Assistance and Voucher Programme. 
I fight alone to feed the children. I pound millet for the neighbouring families in order to generate income. I was told that I was selected as a beneficiary of the Food Assistance and Voucher programme because I met the targeting criteria. In fact, I received the vouchers not long ago, in June 2018. I stocked up on rice, oil, milk and spaghetti. This support is of paramount importance and necessary to ensure moral stability within my household. Islamic Relief's team informed and orientated us about the project's objectives, rights and duties.
What has struck me with Islamic Relief's work is that we are perceived as actors, as opposed to mere beneficiaries. I have seen distributions in the past from many aid organisations, but they would only consider us as recipients. Islamic Relief taught us that we have rights and that if these rights are not respected, we can complain. They have also given us phone numbers that we can call in case of complaint or abuse even if the perpetrators are their agents. The first number is the one of the agent who works with us. The second is the phone number of one of his supervisors in case it is the agent who commits some form of abuse. 
In order for us to better understand our rights, Islamic Relief's agents visit us three days before each distribution, and tell us, in our languages, what we can expect from the distribution programme. At the distribution locations, our rights are written on a table. Anyone who can read can check whether what they have received matches the description. Those who can read can help the others to check the content of their packages.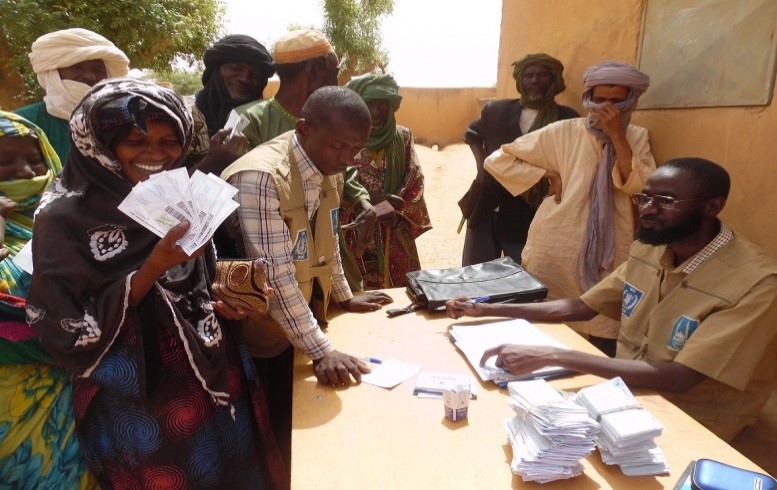 Nowadays we ask Islamic Relief agents lots of questions at distribution sites. We feel that the activities take place in a participatory manner. Since the beginning of the programme, I have not had to complain because I have always received six vouchers and I am well served by the shopkeepers, with the products of my choice. Food prices are displayed on the doorstep of all shops, which allows us to choose our products without any problem.    
Since January 2018, Islamic Relief Mali has provided food assistance through food and voucher distribution to Internally Displaced Persons (IDPs) and Returnees affected by the crisis in the Gourma-Rharous Cercle of Timbuktu, Mali. The project will end in September 2018. In total 7,254 persons have received vouchers and 5,988 have received food, amongst whom 3,833 children and 2,155 pregnant and lactating women.