We need a Power Connector: towards a common approach for achieving our goals with integrity
14 September 2021
Those of us who work for NGOs need a common language and framework to understand and address power holistically. Participants at the upcoming CHS Exchange will join me to explore what needs to be done to raise the standard for people in crisis, by shifting where power sits.
Too often, organisations overlook the bigger picture while concentrating on power dynamics within key issues like safeguarding. Only by stepping out of isolated groups and looking at the whole organisation can we fully acknowledge the potential impact of power dynamics and understand the interconnection of multiple integrity issues, such as anti-corruption, anti-racism, anti-bullying, decolonisation, and anti-slavery.
As highlighted in my previous blog, power analysis is an intersectional lens enabling a comprehensive, coherent, and proactive approach to organisational integrity. By separating issues, organisations are setting up different teams to compete for resources, and leaders have to prioritise potential risks around one issue at the expense of others. This means risks are left unidentified or unaddressed.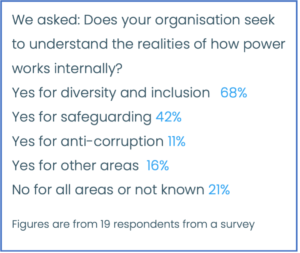 Getting an in-depth understanding and appreciation of how the risks are linked and can be tackled is difficult. The longer power analysis is applied in silos, the greater the risk of a fragmented approach across the issues as well as across the sector. With that comes the greater risk of harm to people and the environment.
When working in the private sector during the early 2000s, I witnessed reporting fatigue due to the proliferation of responsibility approaches, standards, certifications, and reporting programmes. The multiple, duplicate, isolated, and sometimes contradictory requirements often became a barrier to change, diverting substantial resources from driving change to reporting on the commitment to it.
Our sector's relatively early stage of addressing organisational and sector-level integrity presents a critical opportunity for coherence and to avoid replicating the private sector's path of multiple responsibility frameworks.  I am encouraged to see organisations such as CHS Alliance enabling a core and universal sector-level standard. But I believe there is a further opportunity for coherence by putting power analysis at the heart of an emerging common language and framework for addressing integrity. This is what Power & Integrity, a new, not-for-profit initiative we are about to set up, aims to take forward, with input from others in the sector.
Power analysis isn't new to the development sector. For years, it has been used to highlight and address societal inequality. Ironically, the gap has been in an understanding at an operational, executive and trustee level of how power manifests within their own organisations and the sector.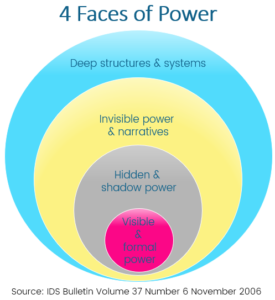 We don't, therefore, need to create something new, but rather adapt and build from what exists together.
As illustrated below, applying the 4 Faces of Power (a well-established framework for international development programmes) to an organisational context highlights layers of overt, hidden, unconscious and structural dynamics that shape both the organisation's and its representatives' behaviour.
Existing power analysis frameworks provide a diagnostic tool for identifying negative power manifestations. Importantly, they can also enable identification of positive transformational power, the voices and the perspectives that need to be included and empowered to create change.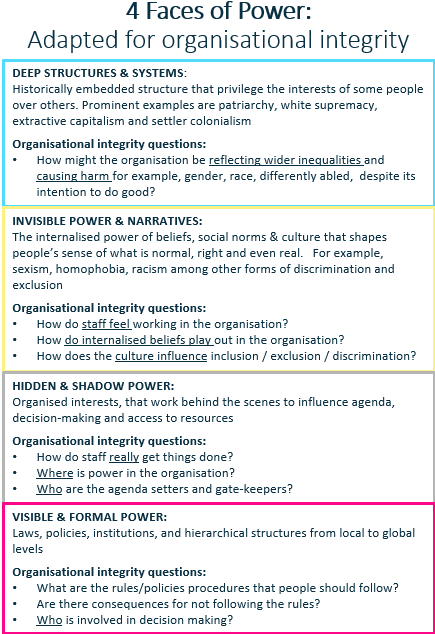 There is an opportunity to adapt these frameworks to develop a shared approach. This would enable organisations and the sector to work collaboratively to align behaviour with its missions, reduce the risk of harm and achieve their goals with integrity.
I am about to launch an open source, not-for-profit, initiative called Power & Integrity to support the development of sector-wide coherence. We're inviting organisations and individuals to be part of our pioneering work by taking part in workshops to shape the strategy, pilot the approach, share insights, or provide funding.
Succeeding in this will see organisational and sector goals achieved with integrity. If you are interested in getting involved or want more information, contact Alex Cole-Hamilton at alex@power-integrity.org.
You can also join me at the upcoming CHS Exchange, 28-30 September to participate in my session on Understanding and addressing power in aid organisations.