Do languages have a low priority in development work?
28 August 2018
Listening Zones, a recently ended research project found that language issues do not tend to have a high profile within I/NGOs. We had a coffee with Dr Angela Crack and Dr Wine Tesseur, to learn why languages are important for accountability and to explore the relevance of the results in humanitarian work.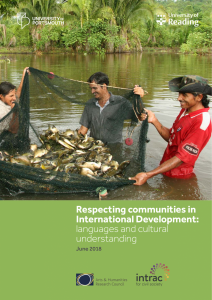 According to a recent project funded by the Arts and Humanities Research Council, DFID and INGOs in the UK do not give overt consideration to the role of languages in development and to their potential contribution to development relationships. Listening Zones was a three-year (2015-2018) research project based at the Universities of Reading and Portsmouth examining the role of languages in power relations, organisational awareness of language policy and the provision of language/cultural mediation in development work. The study was conducted with the involvement of Christian Aid, Oxfam GB, Save the Children UK and DFID's predecessors, and focused on development work done in Kyrgyzstan, Malawi and Peru. The main findings include:
Languages are not generally integrated into the development cycle and are not budgeted for in advance.
The failure to integrate languages leads to certain groups being excluded, unable to apply for funding and to participate fully in project design.
Many words commonly used in the anglophone development world are not directly translatable into other languages.
INGO staff in-country and partners often feel at a disadvantage working in a predominantly anglophone organisation.
We had a coffee with two of the authors of the report, Dr Angela Crack and Dr Wine Tesseur, to learn why languages are important for accountability and to explore the relevance of the results in humanitarian work.
Tell us a little bit about the background of the project. Where did the idea come from to focus on languages in development work?
The idea arose from the unique and complementary set of skills that each team member brings to the project. Angela specialises in NGO accountability, and has previously published on the forerunner to the CHS Alliance, the Humanitarian Accountability Partnership. She has a long-standing interest in how NGOs seek to be downwardly accountable by communicating with their beneficiaries. Wine's PhD focused on the translation policies and practices of Amnesty International, which piqued her interest in how these issues play out in development NGOs. Professor Hilary Footitt, the leader of the project, has previously authored a major study on foreign languages in war and conflict, which led her to become interested in the role of non-governmental actors. INTRAC exists to strengthen the effectiveness of civil society and collaborates with academic researchers to bridge theory and practice. Together, we coalesced around a common concern to explore the role of languages in development work and produce evidence-based policy recommendations for NGOs.
Why do languages have a generally low priority in development work?
Multilingualism is an unavoidable part of development work. We hope that this research gives voice to practitioners who have championed these issues, and have often felt frustrated that languages are not fully integrated into their organisation's policies, budgets and practices. We also hope that it raises the profile of the issues to policy-makers. Linda McAvan MEP, the Chair of the International Development Committee at the European Parliament, was kind enough to deliver the opening address at our final conference. Perhaps she said it best: The report made me think about an aspect of development policy that I've never thought of before, although now I feel ashamed because it's obvious!
Why are languages important to be accountable to people in need? 
Commitment 4 of the Core Humanitarian Standard states that people should 'know their rights and entitlements, have access to information and participate in decisions that affect them'. Quite simply, NGOs will have to be much more proactive to ensure that language barriers do not stand in the way of realising this goal. In the words of one interviewee from a Malawian NGO: How can the community ask you that you must be accountable if they don't understand the language?
Is the lack of consideration to the role of languages a sector wide phenomenon or is it more prevalent to anglophone INGOs and donors?
There is a general lack of research on this topic, and as our own research focuses on UK-based NGOs, it's not easy to answer this question. However, it was intriguing that some interviewees from our Peru country case study reported that they found that non-anglophone organisations were more 'respectful' about language. It would be interesting to explore possible differences in approach between anglophone/non-anglophone NGOs and donors in future research.
Are you aware of any research focusing on the impact of the lack of language use. For example, in terms of return to investment?
To our knowledge, little is happening on this topic at the moment both within NGOs and academic circles. An exception is Amnesty International, which has developed its own Language Resource Centre that provides language support throughout the movement. Staff are currently exploring a more integrated approach to language as part of a project entitled 'Language Strategy and Strategizing Language for Amnesty International'. Underlying the project is a view of language as a core element underpinning diversity, gender neutrality, active participation and growth. One of the things staff are trying to do as part of the project is to measure what difference it makes to provide or not provide translations. This will then help the organisation to devise a suitable language policy. All of this is explained in Amnesty International's contribution to the forthcoming journal issue of Translation Spaces, which will come out this month.
The research focused on development work, what about humanitarian aid? Does the humanitarian sector have the same issues?
While the role of language in development work has emerged as key in building long-term relationships, the major challenge of languages in the humanitarian sector lies in the need for an urgent response. The INTERACT research project on crisis translation is currently conducting research on to identify best practices and gaps regarding translation and interpreting in crisis communication policies and to make crisis translation policy recommendations for national, EU and international agencies. They are working closely with NGOs and also with Translators Without Borders, an organisation that has been providing language assistance in crisis situations for several years.
Do the recommendations apply to humanitarian work as well?
The biggest 'take away' from our research is the need to take into account the specific local context in order to listen to people with respect. Languages are embedded in their cultural and socio-political context. There is no one-size-fits-all solution, as is the case for so much in development and humanitarian work. Several of our recommendations can be used in humanitarian work too, like the importance of planning for and funding language provision. We also suggest that NGOs should develop glossaries for frequently-used terms that could be shared as a common resource. Translators Without Borders have produced some useful research and resources relevant to humanitarian work that CHS Alliance members might like to consult
Commitment 4 of the Core Humanitarian Standard acknowledges the importance of languages by saying "Communicate in languages, formats and media that are easily understood, respectful and culturally appropriate for different members of the community, especially vulnerable and marginalised groups." Most of the INGOs we work with thus have committed to pay attention to these issues. What else is missing here? 
There can be a gap between policy and practice. Our interviewees argued that languages are not generally integrated into the development cycle and budgeted for in advance in the design, implementation, monitoring and evaluation and feedback stages of projects. In the words of one of our interviewees, language is an 'afterthought'. We argue that language considerations should be a central factor in the project design. If there is no pre-determined strategy in place, the danger is that ad hoc solutions will be found to language problems that arise during the course of the project, with little central coordination. Different communities in different localities will then have variable experiences of NGO depending on whether the fieldworkers concerned have the skills to communicate effectively and in a respectful manner.
The research lists some innovative practices. Where can organisations turn to if they need further help with their language challenges?
Do please look at the 'innovative practices' section of our report. It is available in English, Spanish, French, Russian – and more versions are coming up in Chichewa, Quechua and Kyrgyz! Bear in mind that this is merely a summary of our main findings. We have a book coming out in 2019 that will go into much more detail (Listening, Power and Inclusion, Palgrave). However, we appreciate that is quite a long time to wait! In the meantime, we'd be delighted to answer queries to organisations via email at angela.crack@port.ac.uk.