SCHR's Misconduct Disclosure Scheme
23 September 2019
We hear from Gareth Price-Jones, Executive Secretary of the Steering Committee for Humanitarian Response (SCHR) about the new Inter-Agency Misconduct Disclosure Scheme. SCHR brings together nine of the world's leading humanitarian organisations to share analysis and learning, and promote greater accountability and impact of humanitarian actions.
Thanks for sharing SCHR's new initiative with us Gareth. Can you introduce how the Inter-Agency Misconduct Disclose Scheme arose?
Revelations over the last few years of sexual abuse, exploitation and harassment (SEAH) in aid organisations have made a deep impact on us all. We all know that as a sector we need to take urgent action to build new organisational cultures with safeguarding right at the at the heart of our work.
One way to tackle SEAH is to stop abusers' ability to continue working in the sector after misconduct has been uncovered.
In response, a group of agencies, coordinated by SCHR, has a developed a Scheme to support NGOs themselves to try and solve the problem of aid workers switching between agencies after findings of misconduct.
Could you tell us more about the new Scheme?
Launched in January 2019, The Inter-Agency Scheme for the Disclosure of Safeguarding-related Misconduct in Recruitment Processes within the Humanitarian and Development Sector (Misconduct Disclosure Scheme) establishes a minimum standard for humanitarian, development and other civil society organisations to share information as part of their recruitment process. The scheme covers information about people who have been found to have committed 'Misconduct' during employment. In terms of the Scheme, 'Misconduct' means sexual harassment, sexual abuse or sexual exploitation. The Scheme aims to complement checks that organisations are already being carried out as part of their recruitment processes, such as police checks, because we know that (largely for reasons of survivor protection) the majority of misconduct never makes it onto a police database.
The Misconduct Disclosure Scheme aims to increase the sharing of relevant sensitive information, which traditionally agencies have been reluctant to disclose, enabling abusers to move agencies with impunity. The scheme does this by ensuring data can be shared while seeking to respect applicable legal and regulatory requirements. The Scheme is a small but important contribution to organisations' work to prevent and address the consequences of sexual harassment and sexual exploitation and abuse in the humanitarian and development sector.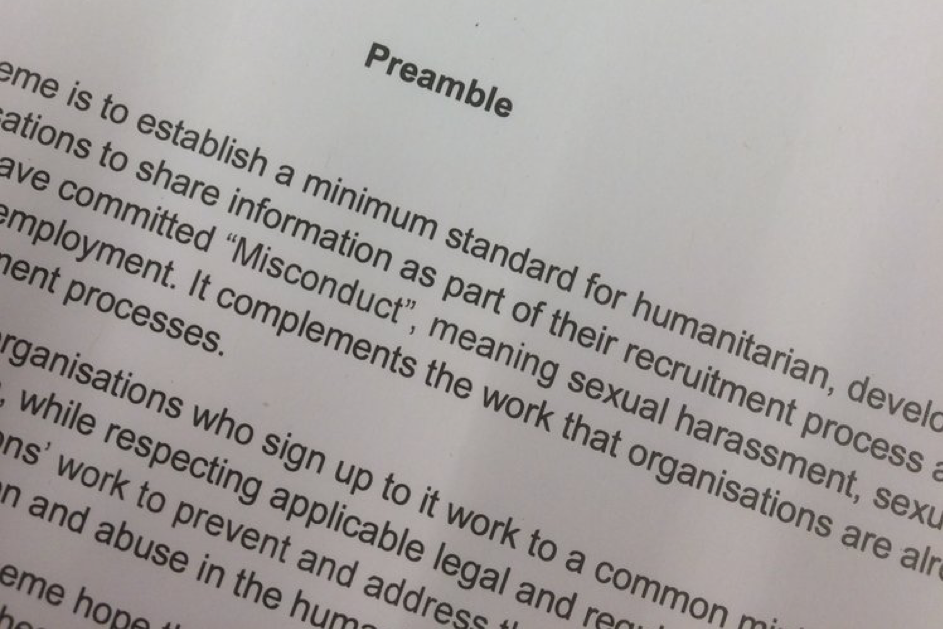 To go into more detail, the Scheme has two main commitments that participating organisations must sign up to:
Systematically check with previous employers about any SEAH issues relating to potential new hires; and
Respond systematically to such checks from others.
The aim is to enable hiring organisations to get better information to make a better hiring decision, while also protecting aid staff.
"It's quite shocking, but even in the current environment with a lot of scrutiny and attention to the issue, we know concretely that abusers are still applying for jobs with large, high profile aid organisations."

So far, we have 14 signatories on board with several others working on implementation. We have hard data that the scheme has already prevented the hiring of several abusive staff, demonstrating that even in the current environment with a lot of scrutiny and attention to the issue, we know concretely that abusers are still applying for jobs with large, high profile aid organisations.
How have you engaged the sector on the new Scheme?
We have had many discussions with SCHR members and others in the sector as the Scheme develops, and most recently I presented the Scheme at a CHS Alliance PSEAH Contact Group webinar. Bringing together subject matter experts from a range of organisations to discuss the Scheme was valuable – there are good reasons why this kind of data exchange hasn't happened in the past, so there has been a lot to work through. Those who attended the webinar received an in-depth briefing, as well as learned what to consider before they sign up, and also 'early-bird' information on how to join.
We discussed the Scheme's benefits and had a great Q&A around some of it's more challenging areas.
Meeting with the PSEAH Contact Group was a great way to bring in more practical expertise, work out what issues operational agencies are facing, and build support for it among CHS Alliance members.
What are the next steps for the Scheme?
We plan to start actively recruiting significant numbers of new signatories from early 2020, once we have various support tools in place, including both international and local NGOs. The scheme has been designed from the ground up to cope with large numbers of signatories, and there will be network effects as information on abusers is more effectively shared across the humanitarian and development communities. I'm confident that we can significantly improve the protection of beneficiaries, staff and programs moving forward.
For more information on the Misconduct Disclosure Scheme you can visit SCHR's website.
If you work in this area, contact Coline Rapneau to join our the CHS Alliance PSEAH Contact Group and be at the heart of debates and initiatives on the topic.