Meet Lola Gostelow, incoming Chair of the CHS Alliance Board
6 December 2021
The General Assembly has endorsed independent candidate Lola Gostelow as the next Chair of the CHS Alliance. Lola spoke with members during a virtual coffee chat prior to the vote to share her motivations for standing for Chair of the CHS Alliance Board at this critical time for the aid sector.
"[The sector is at a] really important juncture of tension, of strain, and of need for change." Lola shared with an audience of CHS Alliance members. She went on to highlight that for her, the big issue at stake is how the aid sector, in its entirety, manages the transition and change towards an incentivised system where local leadership, where national creativity, where local voices of those closest to calamity and disaster are heard and prioritised. Bringing these elements to the fore of humanitarian decision making and ways of working will be critical, Lola argues, to avoid a broken system.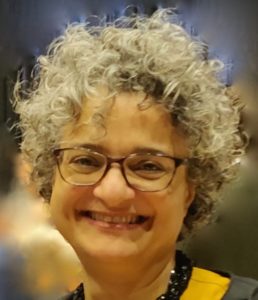 Humanitarian principles and partnership principles have guided Lola's working life. She chaired two major humanitarian interagency initiatives, first with Sphere Project (2003-2005), and more recently the Start Network (2016-2018). She also understands the importance of the verification drive for the CHS, having served on HQAI's General Assembly (2016-2020).
Today, Lola is an independent consultant on humanitarian policy initiatives (as well as nutrition and food security) and is a professional partnership broker. She will draw on these collaborative skills as well as her extensive governance experience in the new role. "What I have is a real understanding of whole organisation capability and what it takes to bring about changes and to bring about momentum in a sector."
"As a humanitarian, I am deeply committed to a principle-based approach to servicing, supporting, and engaging with communities affected by crisis or disaster," she told members during the online meeting.
As the next Chair, Lola is keen to focus on the role of the CHS Alliance as a global network and its unique value for improving the aid system. "If the humanitarian system is to add value to people affected by disasters, then what is the core of that? The Core Humanitarian Standard is the fundamental underpinning of this change."
Meet the CHS Alliance Governing Board.