Most important humanitarian competencies – coffee with Sylvester Kyuli
21 February 2018
Sylvester Kyuli is Head of the Western Kenya region at Action Against Hunger, covering five counties:  Bungoma, Kakamega, Trans Nzoia, Busia and West Pokot. He is in charge of his organisation's programmes, making sure that they are on time, respect budgetary commitments and respond to the agreed scope. He also supports the field staff so that they are able to implement our programmes without any issues. On the occasion of the release of the Core Humanitarian Competency Framework (CHCF) and a set of accompanying tools, including ready-made training modules and a video clip, we had a chat with him and asked him what competency he considers to be essential as a humanitarian worker.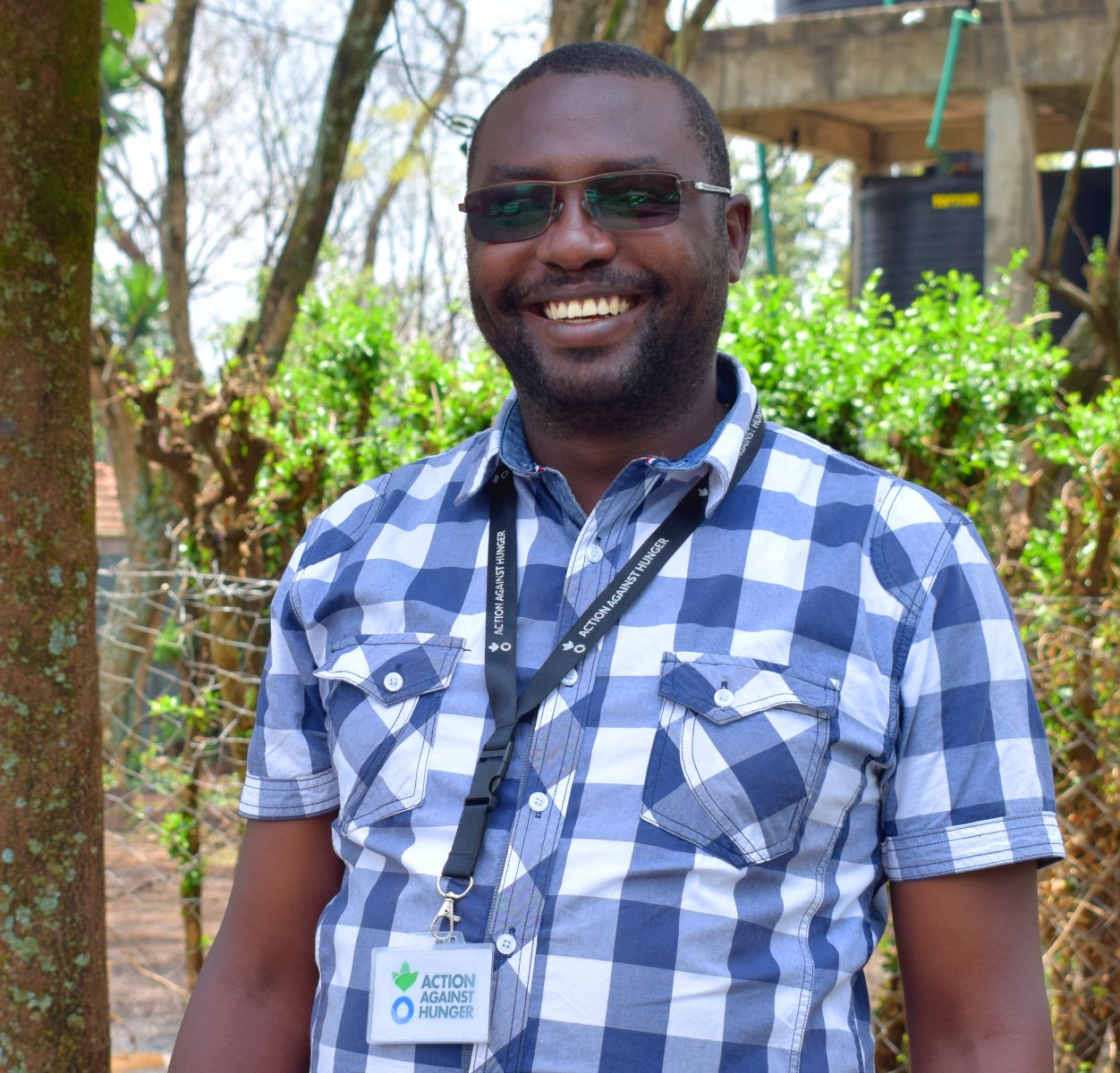 What made you decide to join humanitarian action?
I used to work for the Government of Kenya when I felt a need to become part of the change I wanted to see in the world. I realised that I would be able to impact the world more as a humanitarian aid worker than as a government official, which is why I have been with Action Against Hunger for the last ten years.
Who do you admire in humanitarian work?
One person who really embodies the selflessness of humanitarian work for me is Mother Teresa. Her spirit of caring and giving is very admirable.
What is the one thing you enjoy most about working with Action Against Hunger? 
One thing I've enjoyed most while working with Action Against Hunger is that for the last ten years the organisation has invested in my career, namely in my programme management skills.   That has enabled me to grow career-wise and acquire skills that I did not have a decade ago. I also enjoy our core values – Respect, Integrity, Creativity, Empowerment and Excellence -because in small ways those values have made me a better person, who understands a lot more and appreciates the things I used to take for granted.
What has been your most challenging experience while working in the field? 
While working in the field a number of odds may be against us like bad weather, bad terrain and many other issues that make it difficult for us to achieve what we set out to do. There are times I look at staff and see that they're discouraged and in times like these, the most challenging thing for me is how to keep them motivated; how to reassure them that we can look for alternative solutions.
We once got stuck in the middle of a river in West Pokot for about one and a half days. You know, when it rains in Uganda, the water overflows to Kenya, then we experience flash floods in West Pokot. So here we were, in the middle of a river, in a vehicle carrying nutrition commodities and very hungry. We kept putting up sand barriers to prevent the water from flowing into the car. In a moment of absolute exhaustion, I found myself asking a lot of questions: 'I mean, I have friends and family in the capital, so why am I going through all this'? But after we were rescued and got some food, our situation didn't seem that bad. I think the hunger was making everything seem worse! (laughing)
What has been your most rewarding experience while working in the field? 
My most rewarding experience is every time we are able to meet our objectives. Whenever I meet mothers who initially had very sick children, whom I referred to and involved in our supplementary nutrition feeding programmes and see them recover, that brings incredible joy to my heart. Also the fact that the members of the community really appreciate our work.
Another thing is when my team and I are appreciated and recognised by our partners, be it the County Government and the right holders who can firmly say 'yes, we know what Action Against Hunger is doing and we appreciate the organization's support.'
What do you think is the most important quality and/or competency to have to be a successful humanitarian worker?
One is commitment. Commitment to what you resolve to do because being a humanitarian worker has a number of challenges like security, community riots and misunderstandings. Commit to whatever you have to accomplish in the field and learn from your successes, as well as your failures.
In your day-to-day work, how do you ensure that you involve affected people and communities as closely as possible?
Basically, my work entails being able to facilitate and enable the programme staff to achieve their objectives and goals. In doing this, I try to make sure that Action Against Hunger does not become a bottleneck with regard to service delivery to the community. I do my best to assure that any issues that might be a hinderance towards programme implementation are addressed with the concerned parties. For instance, if I'm needed to talk to a Director of Health for authorisation purposes or even issues that require clearance, I am always ready to do that.
How would you describe yourself in just one word?
Bold. I believe I'm able to bring up issues and finding solutions that I know are important to my ability to implement programmes, as well as issues that affect the field staff that I line manage. I realise that sometimes that might overwhelm someone and come off as pushy, but that's just being bold and saying what needs to happen. (smiling)
This interview was kindly carried out by Charles Kahiro, Communications & Technology Manager, Human Resources, Learning  & Development Department, Action Against Hunger.