Demands for accountability to people affected by crisis could not be louder
26 May 2021
When was the first time you realised that the humanitarian world did not always live up to the standards that you expected? I remember mine as clearly as yesterday. It has shaped my career and who I have become every day since. That day, my colleagues acted in an unacceptable way with the very people we were meant to help, and I did not know how safely report what I witnessed. The gap between the ideals of organisation I was working for, and the reality could not have been starker. It's only now as I reflect on this experience that I realise that in many ways there is a direct line from that day to my brand new role at CHS Alliance as the Quality Assurance Officer.
Early on in my career it was experiences like this one that made me passionate about ensuring the voice of communities affected  by crisis were at the heart of everything I did. They also made me deeply understand how challenging it can be for an organisation to centre all that they do around the people they serve. As my career developed this knowledge grew into a passion for what is now known as quality and accountability. By the time the Core Humanitarian Standard (CHS) was created, I was really excited to have a framework to work with that. One that not only supported organisations to measure the work they were doing, but that fundamentally assesses how this affected the people they work with. The CHS was everything I had been looking for in one place and I couldn't wait to take it forward!
For the last 7 years I have been lucky enough to use this passion to lead quality and accountability through CHS implementation and verification across a number of INGOs based in the UK. From introducing the concept of CHS to staff, partners and communities across the world, to developing safeguarding and complaints mechanisms, briefing Boards on CHS certification results, I have worked at all levels and across all areas of organisations to take the CHS forward.
I have seen first hand how powerful the CHS can be to drive change in an organisation, how challenging it can be to implement and some of the barriers to transformation at a sectoral level.
I am incredibly excited to now have the opportunity to use these experiences to support even more organisations in my role as Quality Assurance Officer. This role will look not only at how the CHS is implemented by individual organisations, but also how it is implemented by the humanitarian sector as a collective. This is no easy task. However, it is one that fills me with hope. We are at a pivotal moment where the demands for real accountability to people affected by crisis could not be louder.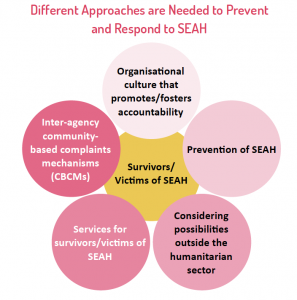 My role at CHS Alliance is just a small part of responding to that demand. Of course, I can't do it alone, I need your help! If you or your partners are operational in Bangladesh, Ethiopia or Palestine – I want to hear from you. Be part of a brand new approach to collectively assessing humanitarian responses against the CHS and closing the accountability gap.