Leading well? Aid leaders reflect on staff well-being and organisational culture
23 February 2021
At the end of the tumultuous year of 2020, CHS Alliance and ICVA invited 15 humanitarian leaders from among their shared members to participate in a project exploring the risks and opportunities associated with staff well-being and organisational culture.
A preview of the forthcoming Leading Well report was presented in a December 2020 webinar carried out with CHS Alliance, PHAP and ICVA featuring CHS Alliance member leaders Amanda Khozi Mukwashi, CEO of Christian Aid, and Dhananjayan (Danny) Sriskandarajah, CEO of Oxfam GB. Catch up on the discussion with the full recording – available online.
Among the findings shared in that webinar were leader reflections on five key challenges in creating caring, compassionate aid organisations:
The profound psychological impacts of operating in disruptive contexts,
The internalisation of power imbalances and oppressive systems,
An aid structure that incentivises competition over collaboration,
The sector's trend towards bureaucratisation, and
A workforce comprised of hard-working people prone to sacrificing their own well-being.
The latter two themes come out in sharp relief in the brand-new podcast interview conducted with Julia Sánchez, Secretary General of CHS Alliance member, ActionAid International. This episode kicks off season two of the Embodying Change series.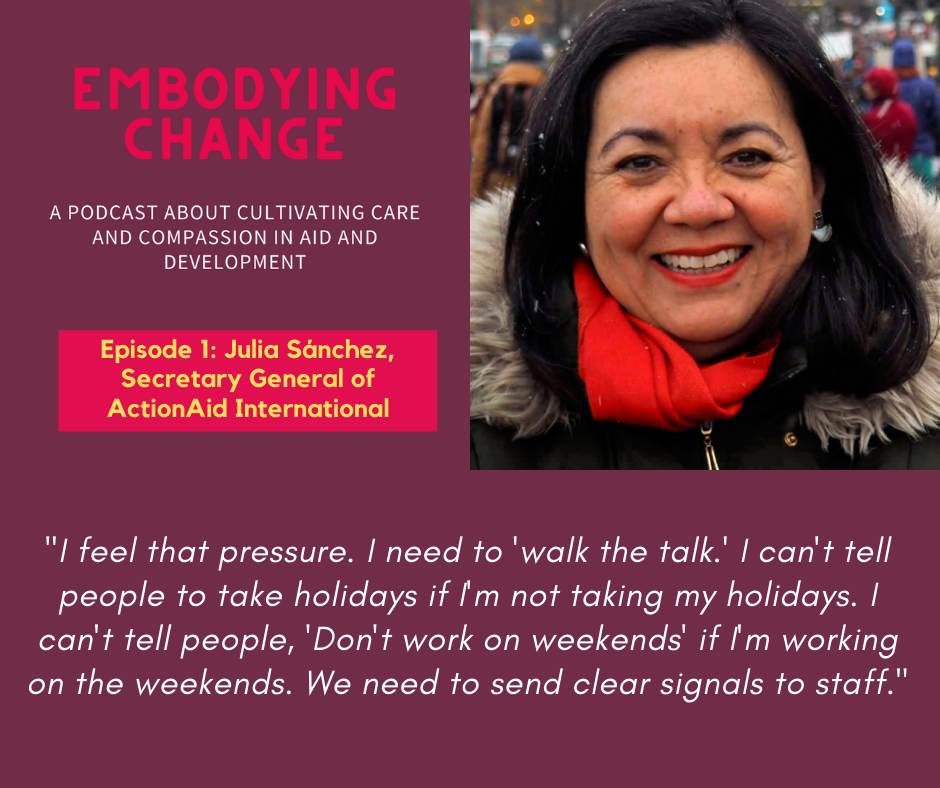 The conversation covers:
Reflections on how important it is to know our values, and how hard it can be to apply them in our daily work,
Why we seem particularly stressed in this sector,
The importance of leaders modelling healthy relationships to the work,
Lessons learned on collaborative management (vs. micromanagement) for building trust and giving space to learn, and
An open question about how we "recharge" when we can't travel and see people in person.
"This combination of activism and bureaucracy is such a toxic combination. The limitless devotion that many in our sector have for our work is because we are activists in our hearts, and activists don't have a nine-to-five. To add to that, we're working in the framework of organisations that have processes, bureaucracy, reporting and sign offs, and all the procedures that make organisations organisations.
You combine the two, and it is like a double whammy. You're pushing yourself to the limit because of the activist in you, and then you have to comply and conform with all these additional things that you wouldn't have to deal with as an activist on the street. So you're bound to be doing double duty." Julia Sánchez, Secretary General, ActionAid International.
The episode with Julia, anchored in a consideration of ActionAid Alliance's ten feminist leadership principles, is now available online.
The full ICVA and CHS Alliance Leading Well report will be released shortly, followed up with country-level conversations on the topic, a session at UN OCHA's Humanitarian Network and Partnerships Week 2021, a 20-21 May Global Gathering, and more episodes in Season 2 of the Embodying Change podcast.
---
Make sure you get the latest updates on this work – sign up to CHS Alliance's monthly newsletter. Or to get involved in the CHS Alliance Initiative to Cultivate Caring, Compassionate Aid Organisations, contact compassionateorg@chsalliance.org.