Non-disclosure agreements – CHS Alliance Guidance Note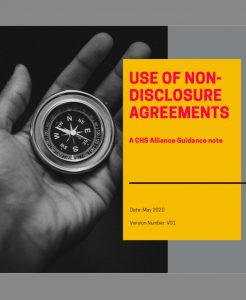 Non-disclosure agreements, or NDAs, are not new and have been included in employment contracts for decades to prevent an employee divulging certain information to third parties. They are also used in settlement agreements to mutually agree to resolve the dispute and to not take the case to tribunal in exchange of the financial arrangement. Since late 2018, the scandals brought by #MeToo movement have revealed other controversial uses of NDAs, namely those used to silence whistle-blowers or victims of other kinds of wrongdoing.
NDAs have a legitimate reason for existing, protecting the confidentiality of the employees as much as the alleged perpetrator. These very good reasons become problematic when NDAs are used irresponsibly.
Under its mandate to advise, guide and train organisations, CHS Alliance has issued this Guidance Note to improve the understanding around the use of non-disclosure agreements (NDAs) and to set out good practice in regard to their use by the organisations and individuals involved in aid response. This resource is also intended as a guide for those undertaking an organisational verification of the CHS to assess whether organisations use NDAs lawfully and in compliance with recommendations stated in this document.