Accountability, Ethics and COVID-19
Booking deadline
16 Apr 2020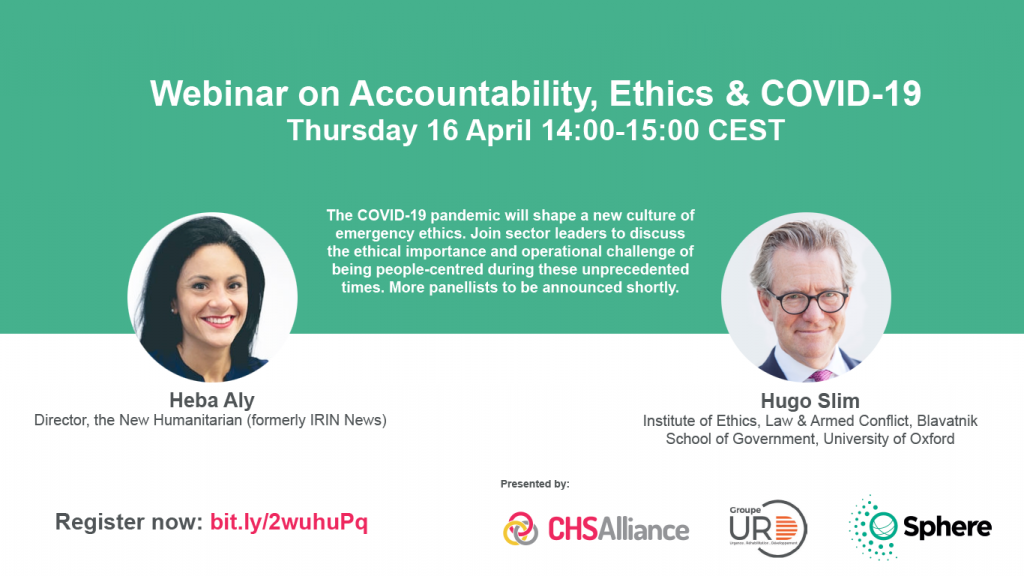 The whole world is facing a humanitarian emergency, the COVID-19 pandemic.
As the humanitarian sector tries to increase people power through new kinds of participatory programming, localisation and "accountability to affected people" (AAP), we will discuss the ethical importance and operational challenge of being "people-centred" during the COVID-19 pandemic.
Moderated by Heba Aly, Director of the New Humanitarian, the world's leading source of journalism about humanitarian crises. With a decade of reporting from conflict zones in the Middle East, Africa and Central Asia, Heba brings experience of amplifying the voices of those affected by conflicts and disasters to inform more effective and accountable responses by the international community. The World Economic Forum named Heba one of 100 Young Global Leaders under 40 in 2018.
Panelist Hugo Slim will share his views on how this crisis will shape a new culture of emergency ethics. Previously Head of Policy and Humanitarian Diplomacy at the International Committee of the Red Cross (ICRC) from 2015-2020 and Chief Scholar at the Centre for Humanitarian Dialogue from 2003-2007, Hugo is currently Senior Research Fellow at the Institute of Ethics, Law and Armed Conflict at the Blavatnik School of Government at the University of Oxford.
Hugo is joined by Jonas Habimana, Executive Director of BIFERD and Sphere focal point in Eastern Democratic Republic of Congo. Jonas is a well-known humanitarian professional in the region and has an extensive experience in the application of the Sphere standards as well as deep knowledges of quality and accountability issues. With his organisation, BIFERD, he is currently actively involved in the COVID-19 response, with particular focus on community outreach and engagement.
The panel will also feature Eva Niederberger, Global Public Health Promotion Team Leader, WASH, Oxfam Global Humanitarian Team. Eva provides overall technical support to ongoing emergency responses and develops approaches to improve the quality of Oxfam's Public Health emergency work and strengthen community engagement.