Most important quality or competency a humanitarian worker should have – Coffee with Asa Lelei
5 March 2018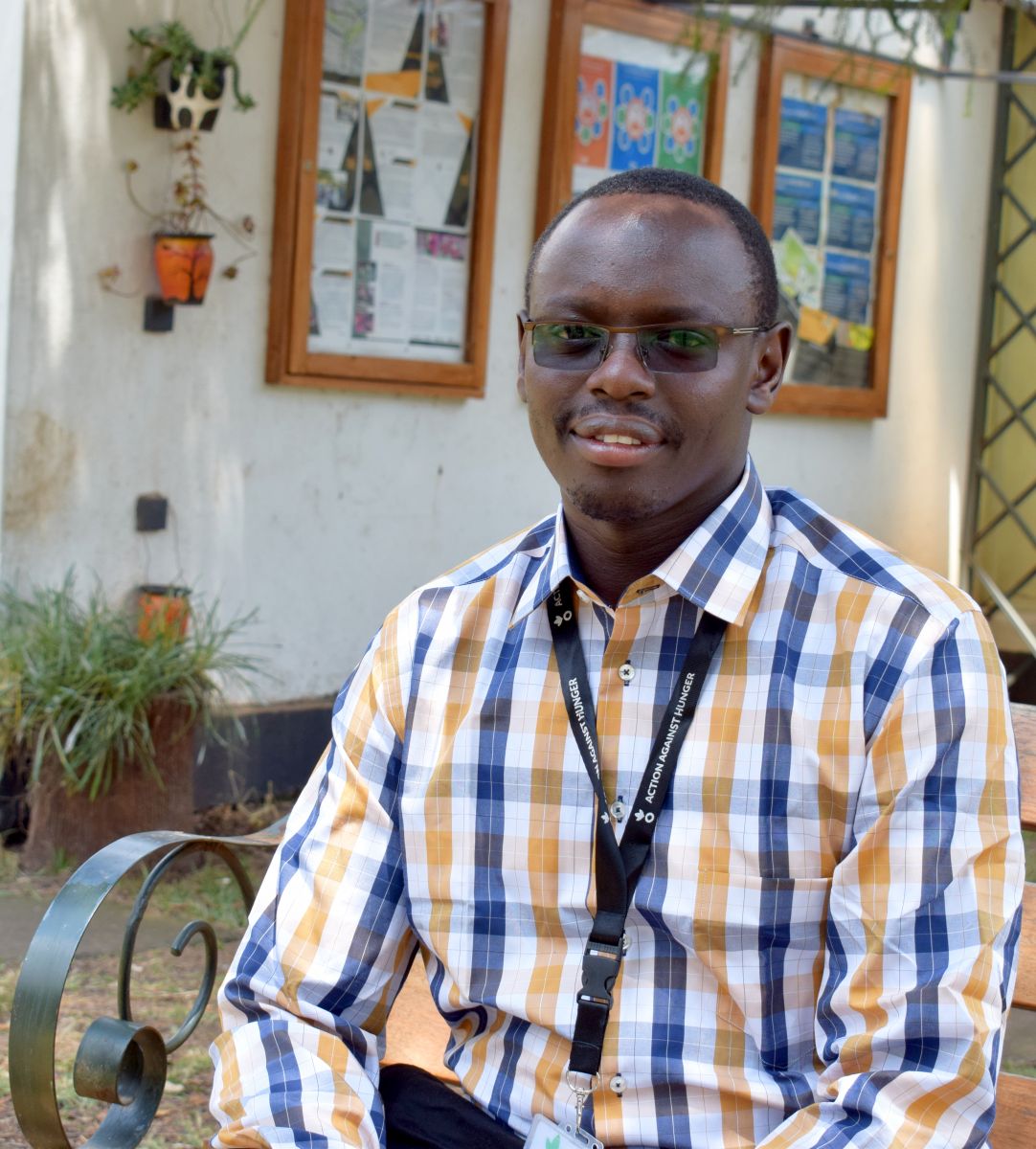 Asa Lelei works with Action Against Hunger in Bungoma, Kenya, supporting a project called Systems Enhancement for Transformative Health (SETH), which focuses on building health systems. On the occasion of the release of the Core Humanitarian Competency Framework (CHCF) and a set of accompanying tools, including ready-made training modules and a video clip, we had a chat with him and asked what competency he considers essential as a humanitarian worker. 
Asa, we are curious to find out what made you join the humanitarian sector… 
I'm a food scientist and after campus my dream was to work in the food industry, specifically on value additional food, food processing and manufacturing in the corporate world. However, after graduating, I came across an advertisement for a graduate internship programme with World Vision. Since I was attracted to nutrition because it is closely related to food science, I decided to give it a shot. At the time I did not really have a clear picture of humanitarian issues, having come from a highland part of Kenya. When I passed the interview, I was posted in Turkana County, which is when I saw the reality of the humanitarian world and the issues that affect people.
Who do you admire in humanitarian work?
I admire the former National Director of World Vision Kenya, Dr Girma Begashaw. I admire his passion for humanitarian issues and his ability to empower staff to buy into his idea of an ideal world. He was also able to mobilise different actors and ensure that the organization had enough resources to achieve its objectives. Most importantly, I admire his growth from humble beginnings as a volunteer to the level of National Director who left a landmark of achievements in the organization and mentored other staff.
What is the one thing you enjoy most about working with Action Against Hunger?
Action Against Hunger is an organization to reckon with in terms of nutrition expertise. It's known to command authority worldwide when it comes to nutrition issues and to have the technical capacity to drive the nutrition agenda. That's one thing that attracted me, and for anyone who wants to build his/her nutrition career, Action Against Hunger is the place.
To add to that, I enjoy the broad field of expertise which has enabled me to become all-rounded, and not limit my knowledge to nutrition only. I'm able to learn issues concerning Monitoring and Evaluation (M&E), proposal writing, resource mobilization, advocacy and communication. Action Against Hunger has also made me a better person by allowing me to make mistakes and learn from them.
What has been your most challenging experience while working in the field? 
To give you a bit of a background, Kenya has really changed in terms of humanitarian issues specifically nutrition programming. Initially, we had direct implementation then we transitioned into indirect implementation. The transition was really rapid, and the fact that Kenya is a middle-income country, it means that the county and national governments have the capacity to implement but they still need the technical support.
Changing from direct to indirect implementation where initially as a manager, I had a big team of about 12-16 people managing and implementing the project then later having a very lean team, and expected to deliver the same deliverables was quite challenging.
The transition was really tough, but for us to maintain our relevance in this country, we needed to adjust because it was important that we have a sustainable system that has been established in the areas where we operate. It was difficult but very important.
What has been your most rewarding experience while working in the field?
Seeing children recover from acute malnutrition and seeing county government staff's capacity being enhanced. Let me give you a quick example. In West Pokot County, we used to conduct surveys but currently the Ministry of Health is conducting them with minimal support from us. Seeing that growth is very rewarding to me.
Another one is having delivered several projects successfully and receiving a letter of recommendation from the donor was really fulfilling. We did a year one reporting to the European Union under the ASCENT (Advocacy, System Strengthening and Capacity Enhancement for Nutrition Transformation) project and they gave positive feedback saying that we reported well and that we had very unique successes. They were excited at how we were able to apply innovations, have influence in fronting nutrition, secure meetings with top leadership and establish a forum where nutrition agenda can be discussed and prioritized.
What do you think is the most important quality and competency to have to be a successful humanitarian worker?
A humanitarian worker needs to be resilient because you may be needed to work extensively based on the situations. Sometimes there's intense pressure that will require you to work with tight schedules and handle issues as they emerge.
You also need to be very proactive, foresee scenarios and have contingency plans to mitigate the issues that affect our stakeholders.
Humanitarian aid workers also need to be very updated –  learn and research – because the context of the humanitarian world is really changing.
In the field, you need to understand the project cycle from the inception stages because that's where you learn how to develop a concept, where you get the needs and how to monitor and evaluate to ensure there's a seamless transition when the project ends.
In your day-to-day work, how do you ensure that you involve affected people and communities as closely as possible?
In nutrition programming, from the proposal writing of the concept development, we base our proposal on research, surveys or other secondary information which tell us what issues are affecting the community in a certain area. That research is population based, meaning we interview community members and from there we are able to develop concepts that address specific issues affecting men, women, boys and girls.
Once we have all the information and funding, we involve the key stakeholders in the inception of the project so that we are all on the same page and agree on the key priority areas. During the routine reviews and evaluation, we get feedback from the right holders and key influencers in that community.
Another very important component that we're trying to institute in our programming, is having a complaints feedback mechanism that will ensure that we are receiving constant feedback on the kind of services/interventions that we are offering.
That will guarantee that the voice of our intended target is heard and they are involved in our project activities so that they have ownership and ensure that there's sustainability at the end of the project.
If you were to be asked to describe yourself in one word, what would you say?       
Perfectionist. I have a certain specific way that I like for things to be done. I have to ensure that I meet those standards that are internally engrained in me (laughing). An example is when sending a report, with certain parts in Times New Roman and the next in Calibri. Let's just say, I look at the nitty-gritties which can be a plus or minus depending on how you look at it. I'm also very result oriented.