How change happens in the humanitarian sector – CHS Alliance launches flagship report
4 October 2018
On 1st October the CHS Alliance, in partnership with the International Committee of the Red Cross (ICRC), launched the 2018 edition of the Humanitarian Accountability Report (HAR) in Geneva. Two years after the World Humanitarian Summit in Istanbul, at which the humanitarian sector committed to substantial changes, the Alliance's flagship report sheds light on what has happened, what not and why.
"Change isn't just about coming through the policies that drive change, but it's about their implementation or their lack of implementation," said Tanya Wood, CHS Alliance's Executive Director, in her opening speech.
She expressed the hope that the shock through which the humanitarian sector went earlier this year, when faced with allegations of sexual exploitation and abuse by aid workers, could  be a wakeup call, an opportunity to finally see a shift that enables people to feel safe enough to share their stories and challenge the existing power dynamics. "Ultimately, it's the people who drive change and the report allows us to reflect on this," she concluded.
"It's important to have a report that shares lessons when it comes to change," said Yves Daccord, Director General of the ICRC, appraising the report in his keynote speech. "We need to recognise that change is complex, takes time, and that change is about people and culture, rather than processes and regulations. Furthermore, crisis-affected people have not just a role to play, but have power and influence over us, as much as customers do in the private sector."
The launch event continued with a video message from Amina Labarakwe, Member of the Tangulbei Women's Network in Kenya. She highlighted that in recent years humanitarian responses have notably become more prompt, but that crisis-affected people still lack consistent support after disasters to rebuild their destroyed livelihoods.
In the second part of the event, a panel discussion took place, moderated by Bonaventure Sokpoh, Head of Policy, Advocacy and Learning at the CHS Alliance.
"The reality is that we have too many standards, and although they can be useful, we have a problem if we are not able to apply them," said Marta Valdés García, Deputy Humanitarian Director at Oxfam commenting on the difficulties of implementing instruments designed to improve the quality of work in the sector. "We are setting extremely high expectations for ourselves. What we can actually deliver is far from what we have committed to deliver. If we want affected people to be able to hold us accountable, we need to translate these standards into reality."
Alluding to one of the key messages of the report, according to which culture is a vector of change, and change happens when humanitarians are open to new, different approaches, Paul Knoxe-Clark, Head of Research at ALNAP, said: "Culture doesn't like change, and as it allows to make sense of our complicated social world, you don't want to change it overnight. You just need to change the facts on the ground and allow the culture to work that into a new formation."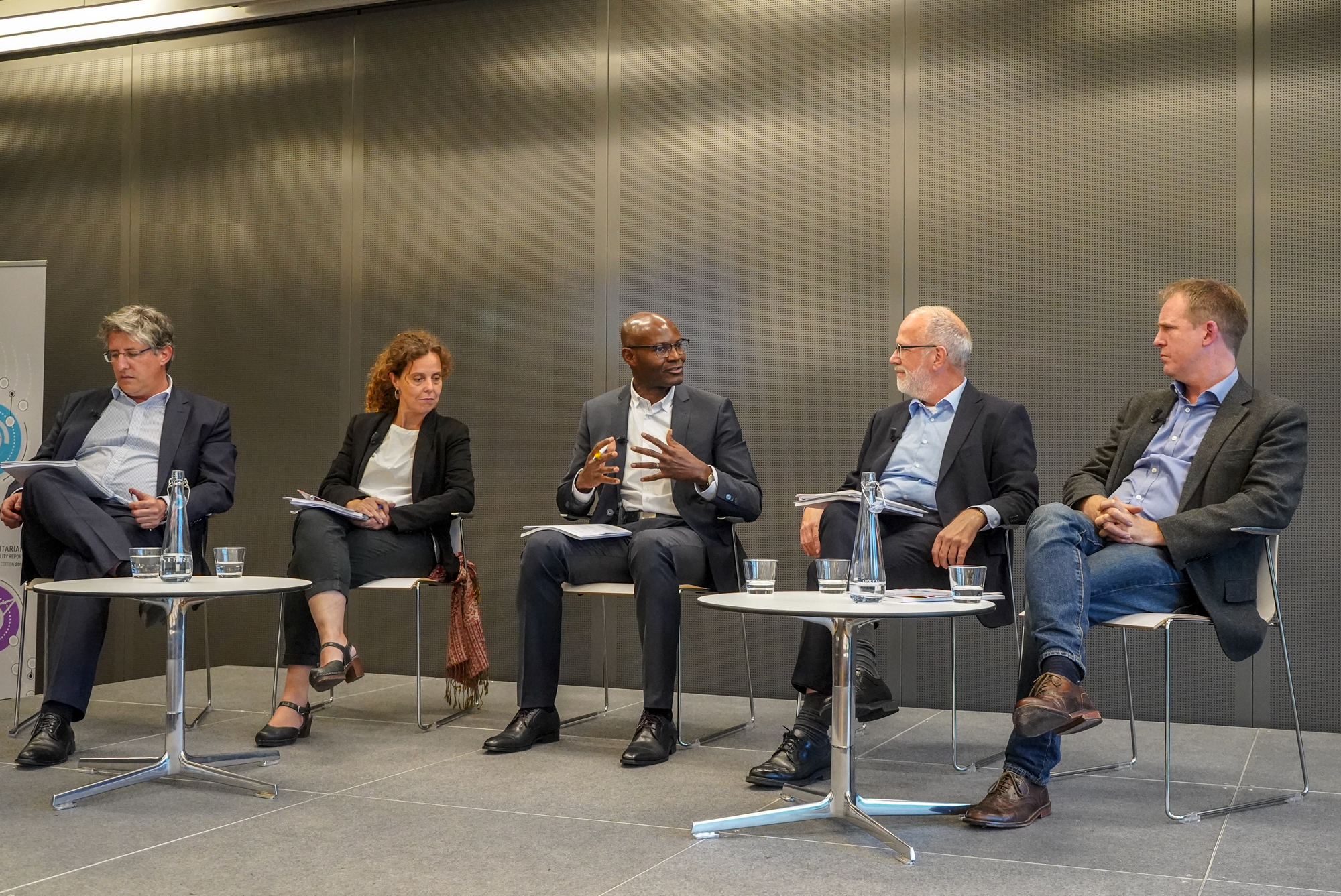 Continuing the discussion about culture, Pierre-Henri Pingeon, Head of Non-proft Organizations at KPMG Switzerland highlighted that it guides how we work and how we interact with people: "I think what is important is the role of leadership in culture, similar as in the private sector. You can develop processes and implement them, but there needs to be a buy-in from the leadership as well."
There are other practices to learn from the private sector. Pierre pointed out, for instance, that the humanitarian sector lacks strong regulators, which is the reasons why it is still easier for the private sector to follow rules and manage expectations.
Representing the donor side, Phillippe shed light on the power dynamics between donors, organisations and crisis-affected people. "From a donor's perspective there is the issue that on the one hand we manage taxpayers' money so we have to be accountable, but on the other hand money gives us power. We have to exercise restraint." He explained that we need to leave room for other perspectives and opinions, to listen to what they are saying and be sensitive to feedback. "Having the money doesn't automatically mean that we are right."
Visit our dedicated HAR page for more information here.