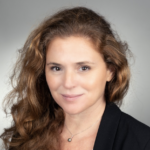 Aurelie, after having been a field humanitarian worker, has developed extensive experience in Protection from Sexual Exploitation, Abuse and Harassment (PSEAH) and safeguarding including setting-up organizational safeguarding standards and frameworks, case management and capacity development for national and international organizations. She is a trained investigator and a trainer of investigators.
Aurelie has worked with a variety of INGOs, local NGOs and institutional donors providing a range of services including SEAH investigations, behaviour and fraud investigations; case reviews and appeals; developing, strengthening policy and procedure, developing and delivering trainings, and conducting organizational reviews and propositions on appeal mechanisms.
Aurelie has also been a university lecturer for 20 years and has several on-going classes in the humanitarian and communication domains. She is a strong communicator and has extensive experience in content design and delivery of safeguarding and protection trainings to diverse audiences. She is also a trainer for CHS alliance.
Aurelie has an MBA in international affairs, a master's degree in international relations and BAs in Philosophy and History. She is also a certified Neuro-linguistic programming NLP/PNL coach and is continuously training.
As a seasoned SEA investigator she has led serious and complex cases, including multi-country investigations, and has conducted case reviews.
Aurelie provides services in English and French.
Contact: laforetaurelie@gmail.com